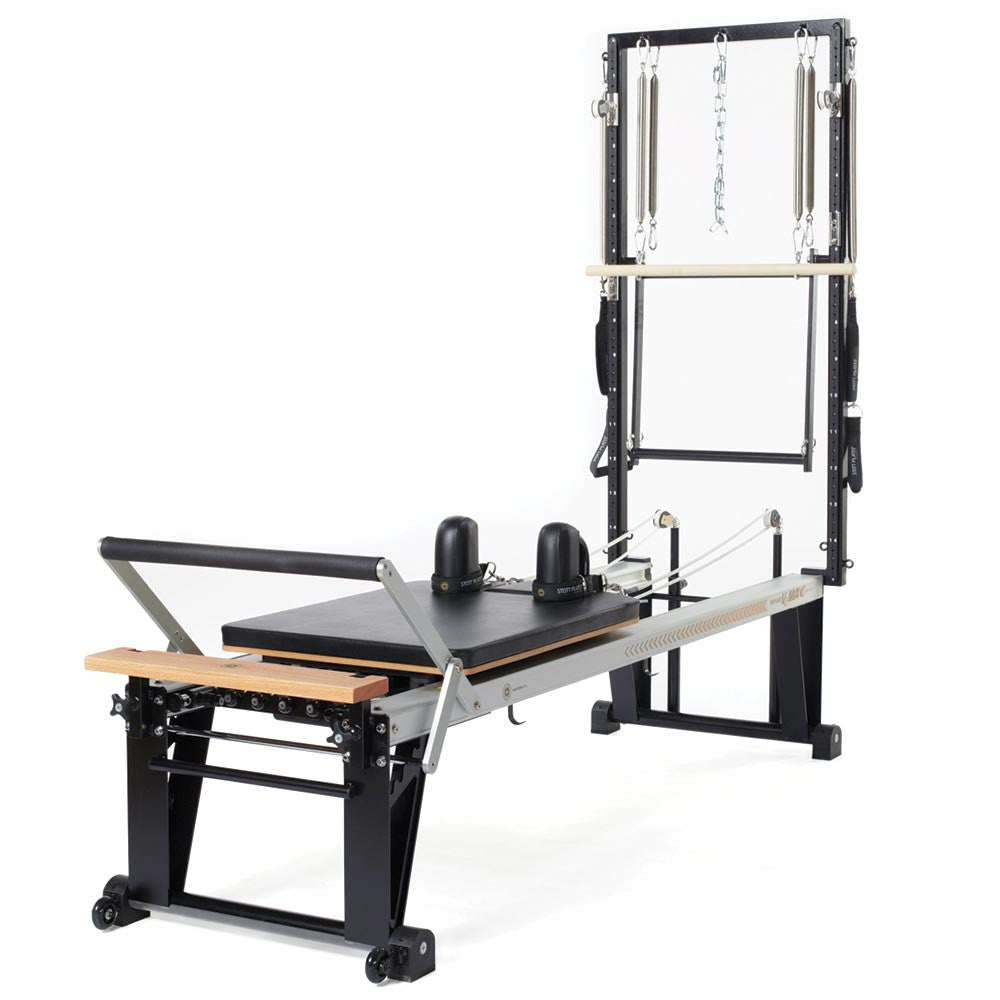 REHAB V2 MAX PLUS REFORMER
---
The "Cadillac" of our Reformer line, the V2 Max Plus&trade'; Reformer facilitates limitless exercise possibilities. This one-of-a kind unit multi-tasks as a raised Mat platform, a standard reformer, a virtual Cadillac and a breakthrough multi-planar, biomechanics training tool. Equipped with our innovative retractable rope system and traveling pulleys on the vertical frame, the V2 Max Plus offers variable angles of resistance, providing an increase range of motion, making it the premier tool for Pilates-based sport-specific, rehab and cross-training movement.


Built to withstand continuous, high-intensity studio use with durable vinyl upholstery and dense EVA foam to provide maximum comfort and accurate proprioceptive feedback.
High-Traction Reformer Feet provide superior grip with all floor surfaces during high-energy Jumpboard or Cardio-Tramp Rebounder workouts.
Made of durable silicon rubber and PVC.
Patented Retractable Rope System with recoiling rope reels for easy adjustments.
Long ropes add increase range of motion and fluidity to exercises – allowing for more programming options.
Carriage glides over sleek C-channel aluminum rails, using a patented rolling mechanism for a smooth, friction-free ride.
Enhanced Springs are built to withstand vigorous use with Jumpboards, Cardio Tramp Rebounders and other Reformer accessories and secure quickly and safely.
3 headbar positions, 6 carriage stopping positions, 3 headrest positions, 4 footbar positions.
Robust and adjustable four-position footbar drops easily into cradle to regulate hip and knee flexion.
1" thick wooden standing platform and pommel-style shoulder rest support a wide range of body weights.
Gearbar slots into three different positions to adjust tension easily.
Shoulder rest stays securely in place and detaches easily for storage.
Easy-roll wheels make it a breeze to move or reposition.
Optional Mat Converter allows for mat exercises on a comfortable, raised surface.
New Comfort Footbar is easier on sensitive feet and hands.

Includes:


Vertical frame equipped with 2 push-thru springs, 2 roll-down springs with maple roll-down bar, 2 arm springs with foam grip handles, 2 leg springs with padded long spine straps, 2 extension straps, 2 travelling spring hooks, 2 travelling pulleys and a safety chain.
High-Traction Reformer Feet with Wheels.
High Precision Springs Package - 5 Reformer Springs (3 x 100%, 1 x 50%, 1 x 25%).
5 neoprene spring covers for noise reduction.
Soft Reformer loops.
Patented Retractable Rope System makes changing rope lengths a breeze.
Carriage Stopper.
Easy-roll wheels on both ends of the Reformer.
2 DVDs: Essential Reformer, 3rd Edition, and Athletic Conditioning on V2 Max Plus Reformer Level 1.
10 standard and 75 custom upholstery color choices. Please specify your selection in the comments box upon checkout.
Owner's manual.
---
Share this Product
---
More from this collection